Article by: Nicholas Oullette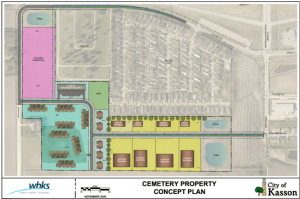 Following months of discussion and consideration, the Kasson EDA has finalized a concept plan for City-owned land in Southwest Kasson. The EDA Board set a goal to create a marketable project for the 44-acre parcel. The City-owned parcel allows the Kasson EDA to effectuate their vision for future commercial, industrial, and workforce housing development in the city. CEDA team member Nicholas Ouellette, serving the Kasson contract, coordinated planning and design exercises with the EDA Board to generate discussion and ultimately organize the EDA's vision for future development on the parcel. 
The concept plan meets the City of Kasson's "ready for growth mantra" says City Administrator Timothy Ibisch, "which the EDA could decide to implement now or in the future". The concept plan breaks development of the parcel into two phases, one phase for commercial and industrial development, and a second phase for residential and/or commercial development. The northwest portion of the parcel could be an attractive location for commercial businesses as it has high visibility from Highway 14. The purpose for seeking industrial development on the parcel is the availability of grants to assist with the cost of infrastructure development. The project was a positive exercise for the Kasson EDA to consider what future development could be and how the EDA might involve itself.