Jackson County – Wisconsin
Jackson County, Wisconsin is located in the west central part of the state.
Black River Falls (County Seat)
Adams
Albion
Alma
Bear Bluff
Brockway
City Point
Cleveland Curran
Franklin
Garden Valley
Garfield
Hixton
Irving
Knapp
Komensky
Manchester
Melrose
Millston
North Bend
Northfield
Springfield
Return to CEDA Team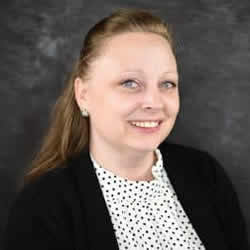 Rebecca Charles
Rebecca joined the CEDA team in May of 2017. Rebecca has a Master's Degree in International Relations from the University of Wales, Swansea, and Bachelor of Science in Political Science from South Dakota State University. She has spent the past 15 years working on/leading political campaigns for both local and national candidates, as well as issue based campaigns.
Rebecca's interest in rural economic development stems from her experiences working with rural communities during her political career, where she heard about the needs and difficulties facing rural communities across the nation. She has a strong desire to help to make positive changes for rural America.