By Joshua Schuetz
CEDA's new board chair has a passion for small businesses and small communities.
Rebecca Sell, currently a business advisor at Think Bank in Rochester, brings 23 years of financial and business advising experience to CEDA's board.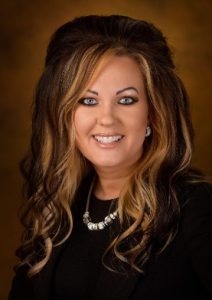 Her involvement with CEDA began when she helped a childcare business acquire funding through traditional financing and EDA loans. As a daughter of a small-town Minnesota family and someone who has worked in finance since she was 17, Sell was uniquely well-positioned to help CEDA make a bigger impact in its communities.
"I grew up in a small town, and my family were mostly entrepreneurs, so part of why I'm passionate about banking is to be a good advocate for our business owners and communities," Sell explained. "I wanted to offer better banking partnerships to those businesses and truly advocate for them in their communities."
Her approach to business aligns well with CEDA's own approach. Sell was asked to serve on CEDA's board of directors in 2019 and served as treasurer before being appointed chair in 2023.
Last year, Sell presented at the annual CEDA training, providing team members with information about business banking and financial services. As a board member, Sell strives to actively support CEDA team members and plans to expand this role as the board chair.
As a business advisor, Sell often finds herself in a position shared by many CEDA team members: needing to find the right mix of resources to help small entrepreneurs succeed.
"Typically, you're using traditional bank financing, personal financing, and an EDA loan, so it's important for CEDA members to understand who is lending in the community and how those partnerships align with the business," she said. "I truly think the biggest factor contributing to my career success is connecting people."
Looking towards the future, Sell plans to conduct a quarterly training with the Southern Minnesota Initiative Foundation and CEDA in the fall. She said the benefits of the  hard work being done by CEDA team members in their communities is evident when traveling from town to town.
"When you drive through a town, you can tell the difference between the ones that have a CEDA representative and the ones that don't," she said. "I want to give everyone a pat on the back because it takes a village to start boutiques, breweries, spas, and all the other businesses we see in our communities.