By Joshua Schuetz 
Rural Minnesota is currently grappling with a labor shortage, as businesses find themselves with more job openings than they can fill. Simultaneously, graduating students are in need of assistance to acquire the skills necessary to fill those vacancies.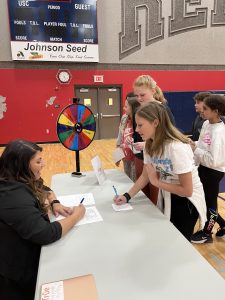 In response to this challenge, CEDA has taken the initiative with its Workforce Coordination Program, which is currently implemented in multiple school districts across the state. The program is supported through a partnership with South Central Service Cooperative.
Operating as a vital link within the community, CEDA's Workforce Coordinators serve as liaisons between high schools and local businesses. Their efforts are focused on developing career training programs, organizing job shadowing sessions, and facilitating events and courses that educate students about the abundant job and career opportunities available to them locally.
A recent example of the program's impact was seen when CEDA team member Emily Davis organized a "Game of Life" event at the Blue Earth Area School District. This engaging event, inspired by the popular board game, provided students with a taste of the costs and efforts required to lead successful lives in the real world. Additionally, CEDA team member Honey Burg collaborated with the St. Peter School District's Education Equity Advisory Council to identify more career pathways for students from diverse backgrounds and enhance inclusivity within the district. CEDA team member Amber Patten, meanwhile, connected students and local businesses at a Career Morning event at the Lake Crystal-Wellcome Memorial School District.
Through effective communication and sustainable practices, the coordinators market the program across various channels, including websites, social media, and local organizations.This proactive approach raises awareness and generates interest among potential participants.
The program's success relies on the collection and analysis of relevant data. To this end, the coordinator maintains a centralized database of business partners and volunteers. By closely monitoring metrics and milestones, the program's effectiveness is assessed, allowing for informed decisions and continuous improvement.
CEDA&'s Workforce Coordinator Program not only empowers students to pursue opportunities within their communities, but also enables them to make meaningful contributions to the local economy. By bridging the gap between schools and businesses, this program lays the foundation for a brighter future where young talents can flourish and shape the destiny of rural Minnesota.