"Parks are the new public squares," and for many small towns like Mantorville, they provide a safe haven for families to come together, play, and participate in community events. That's why the Mantorville EDA and Mantorville Park Board, with the help of CEDA, are working on making Riverside Park, the largest park in the city, even better for local families and visitors alike. Thanks to the hard work of CEDA team member Alexandria Slocum, the park will soon have a new basketball court and equipment that can be used year-round for ice skating and hockey in winter and basketball and pickleball games in the summer.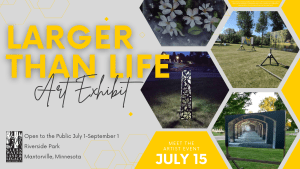 The Hanson Family Foundation, has awarded the EDA $3,000 toward this project. Slocum said the idea had been circulating in the minds of community members and city leaders for quite some time, and they are now trying to secure additional funding for the project.
In addition to the park improvements, there's also an upcoming arts event put on by Larger Than Life, a local nonprofit dedicated to showcasing Mantorville artists and making art more accessible in the city. Larger Than Life Art Exhibit brings in artists from the area to display their work at a large scale in the park from July until September, and they also organize a one-day Meet the Artist event. This year, they plan to add a QR code to the image so that people can vote for their favorite artist or artwork.
Slocum applied for funding from the Southeastern Minnesota Arts Council, which awarded $5,000 toward the printing costs of scaling up the artwork for the events. Slocum and the EDA will continue to seek funding for both projects.
Both the park improvements and the arts event align with the city's goal of making Mantorville a more attractive place to visit, live, and work.
"We've received feedback that in addition to being a great place to visit, Mantorville also needs to be a great area to stay and live," Slocum said. "Improving and growing the parks with these projects will help our residents and visitors alike."