Klobuchar visits Cannon River Winery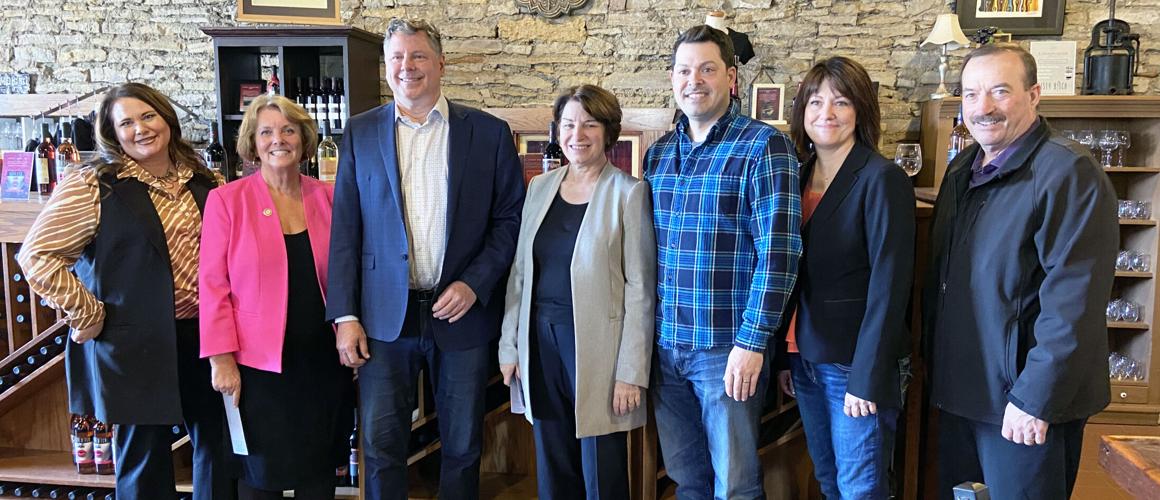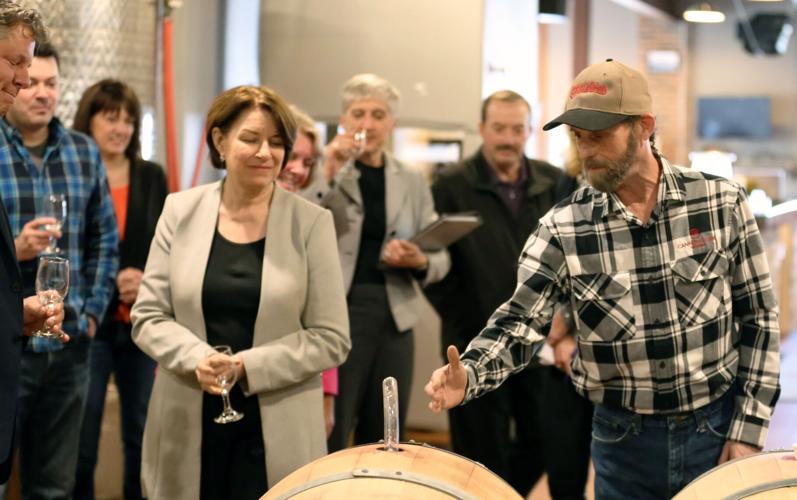 U.S. Sen. Amy Klobuchar (D-MN) visited the Cannon River Winery in downtown Cannon Falls Monday afternoon to hear about how they have used a U.S. Department of Agriculture value-added producer grant.
Cannon River Winery received the working capital grant for $250,000, which they matched, this past fall.
Klobuchar talked with Mayor Matt Mongomery, City Administrator Neil Jensen and Community and business development specialist Laura Qualey with the Community and Economic Development Associates about the Cannon Falls community. Also in attendance was USDA state director for rural development Colleen Landkamer.
Klobuchar learned about the history of Cannon River Winery from Ron Stowell, the winery's owner and president, and Kathleen Johnson, the wine manager. Stowell has owned the winery for the last seven years, but it has existed for about 20 years.
Stowell and Johnson told the senator about expanding the winery facilities, including the recent addition of a kitchen, its use as an event center (Klobuchar had attended a wedding there in the past) and how they have used the funds from the USDA grant.
She took a tour of the winery and learned about the 18 different types of wines, what makes the different types unique and how their "Feisty Bitch" wine is the No. 1 selling Minnesota wine. The tour finished with the site's upstairs event center that featured ghost stories and how it used to be a basketball court and roller-rink among other oddities.
Cannon River Winery has more than 9,000 vines on 40 acres of land in the Sogn Valley just outside of Cannon Falls. The vineyard includes a 150-year-old timber-frame barn and is a wedding venue in addition to the event center atop the building in Cannon Falls
The winery has 18 different varieties of wine and its grapes cover only about 25% of their needs. Their wine can be found all over Minnesota and into western Wisconsin in restaurants, retail stores and other whole-sale opportunities.
Cannon River wine can also be found at the Minnesota State Fair.
Stowell's desire to expand the Cannon River Winery's reach is what prompted him and Johnson to apply for the value-added grant with the help of Community and Economic Development Associates.
"Three components, it's a working capital, value-added grant," Stowell said about their plans for the grant. "The first part will allow us to buy additional grapes, bottles, labels, wood barrels and corks. The second is to allow us to expand with labor, so we've added an assistant winemaker, an assistant marketing director, that's been fantastic. The third is the actual labor itself to produce the additional wine it's going to take to get into these markets."
"The whole value-added was raised to get into new territories: northern Minnesota, eastern Wisconsin and the Dakotas," Stowell said. "Better wine, more wine and to be able to expand our market share."
The winery recently opened its Bitchin' Kitchen, which closes a half-hour before the winery closes. From January to April, Cannon River Winery is open Tuesday and Wednesday, 12-7 p.m.; Thursday-Saturday, 12-8 p.m.; and then Sunday, 12-5 p.m. It is closed Mondays.