By Joshua Schuetz
In February, CEDA and Compeer Financial, a Farm Credit cooperative based in the upper Midwest, announced a new partnership aimed at bringing vitality to rural communities.
Compeer Financial plans to perform exploratory work to learn about the needs of rural communities and implement pilot projects in two communities in Compeer's territory, which encompasses 144 counties in Illinois, Minnesota, and Wisconsin. Compeer and CEDA will work together on information sharing and pilot program execution.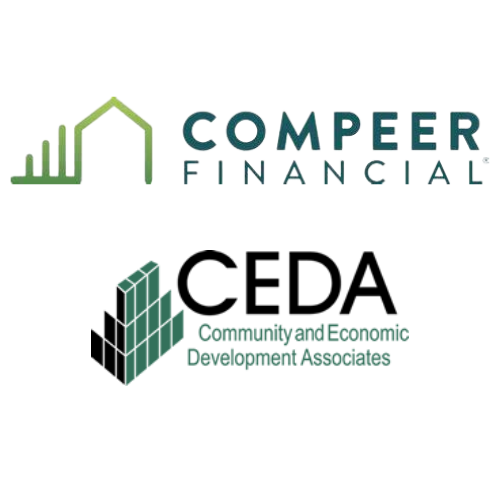 "Our work is centered on the belief that rural communities are full of innovation and inspiration," said Courtney Bergey Swanson, vice president of development and collaborative services at CEDA. "We aim to work alongside these communities to help catalyze positive momentum. That means building relationships and trust, understanding their needs, and working together toward their goals."
CEDA's Rural Business Innovation Lab is an example of how the partnership will allow both CEDA and Compeer to serve rural businesses. The program provides support for entrepreneurs who might be geographically isolated from some of the resources that are helpful to businesses and startups, incorporating business consultation, peer-to-peer networking, and problem- solving.
"We're the boots on the ground in rural America. We're in conversations with people every day. We know what entrepreneurs need, and being specialists in our space is going to be critical," said CEDA team member Robert Harris, who will serve as a consultant for the program. "What's unique is that a lot of technical assistance programs just point people towards resources, but we will be helping them with hands-on work throughout that process."
John Monson, chief mission officer at Compeer Financial, said partnering with CEDA will complement the firm's other efforts to facilitate economic development throughout the cooperative's service territory.
"Compeer Financial already invests in rural healthcare, entrepreneurs, and education through many of our current programs," Monson said. "But we know there's an incredible opportunity to help more communities move from just surviving to fully thriving. CEDA is already pursuing a lot of this important work, and we are ecstatic about this partnership."