By Joshua Schuetz 
Over the past three years, CEDA team member Sarah Carling has brought more than $600,000 in funding for a slate of five parks projects in Itasca County. Just this year, two more grants totaling $60,000 were awarded to the county, thanks to the efforts of Carling and new CEDA team member Lisa Randall.
The most recent grants were awarded by Iron Range Recreation and Rehabilitation Board, a state development agency that funds initiatives throughout Iron Range communities in northern Minnesota. One grant will go to one of the five parks projects, while another will fund an additional park project slated for completion in 2024.
Carling said the county's efforts on improving local parks include the purchasing of new park equipment and replacing infrastructure that, in some areas, is more than half a century old. 
"Some of the playgrounds we're upgrading are from 1950, so the projects are creating a safer and better sense of place in these communities, where people can come together and get to know their neighbors." Carling said. "There was a lot of coordination needed for all of these grants and funding partners and we were unsure if we were going to be successful in securing all of the funds, but we did because of the community collaboration and local funding partnerships."
That collaboration included funding from local organizations like the Blandin Foundation and IRRR, as well as community fundraisers. Carling said additional grant funding is being sought for the project from additional sources. 
Geographically, Itasca County is the third largest county in Minnesota and its communities rely heavily on internal and external tourism, making amenity development that much more important in the area, Carling said.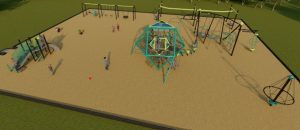 "The project is about more than just recreation," Carling explained. "It also drives new people to communities who may not have visited in the past, so there's a tourism component too and because of our size, when people hear that there is a new or revitalized playground, it can become a destination for local families."