Pelican Fest
Pelican Fest 2024
Thursday, July 4, 2024 12:00 AM – Saturday, July 6, 2024 12:00 AM (CDT)
Description
Pelican Fest will be celebrating our great city's 140th birthday!! Pelican Fest is our longest festival that the diverse city of Pelican Rapids comes and unites together for a variety of events.
THANK YOU TO THE COMMUNITY SUPPORTERS WHO ARE HELPING MAKE THIS EVENT A REALITY:
Bell Bank
Hillbilly Laser
Lakeland Smile
Pelican Drug
Pelican Paddle
Farmers Elevator
Cornfield BBQ
Super Septic
LREC
Lida Greens Golf
Park Region co-op
Larry's Supermarket
Brent E. Fraizier
MN National Bank
Pelican Dental
Sanford Health
Antiques and Everything
Taqueria Escobar
The Pelican Rapids Press
Dean's Bulk Service
Longweekend Sportswear
Shada Seed & AG Services
Erickson Insurance
Mercantile on Main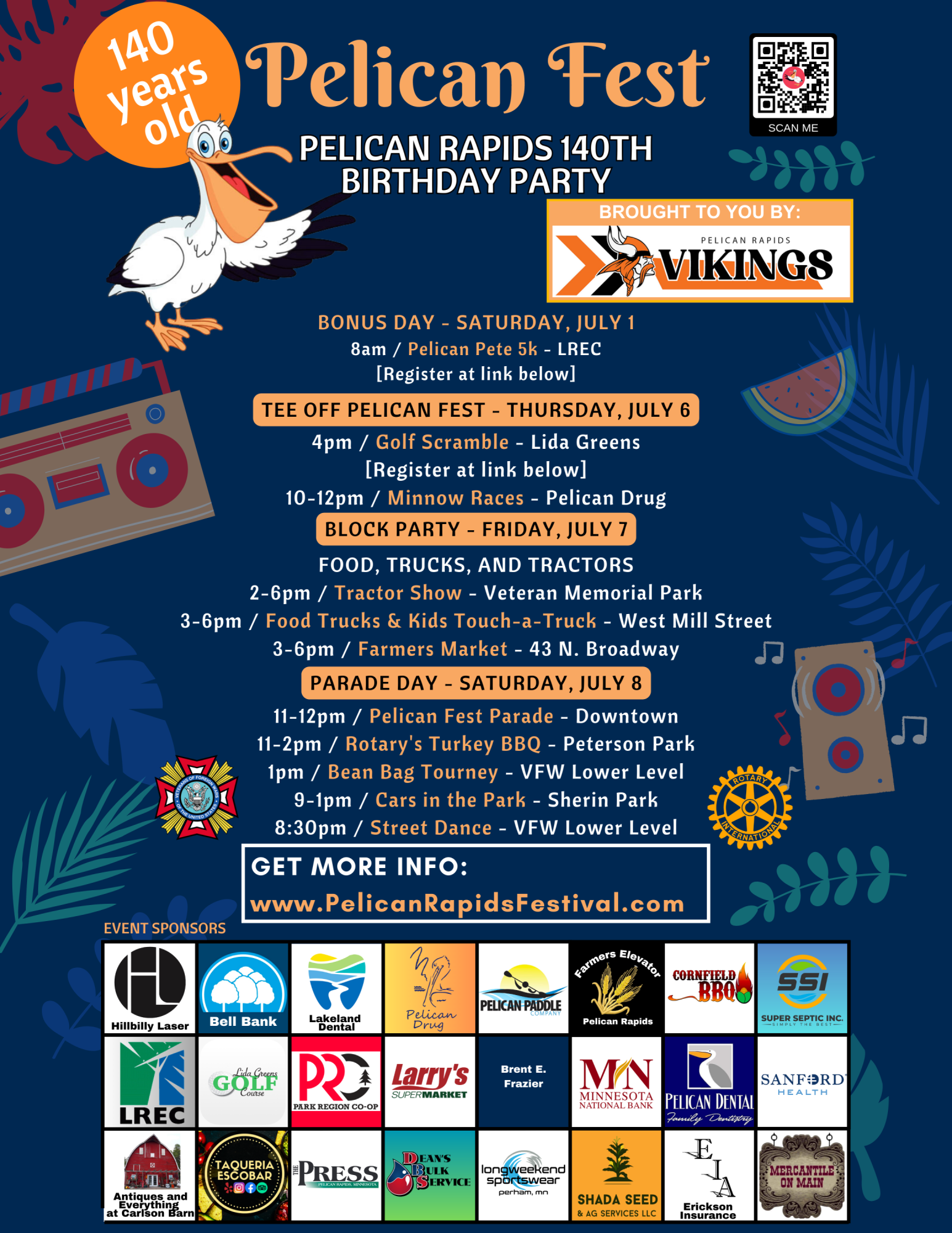 The City of Pelican Rapids
Pelican Rapids
, 
MN
56572
United States
Go to the website for location info: www.pelican-rapids.com
Pelican Fest activity locations are mostly around the Pelican Rapids downtown area. The 5k is happening on the south end of the city and Golf Scramble is in Pelican Rapids Township.