Luminaries Speaker Series – Marc Lore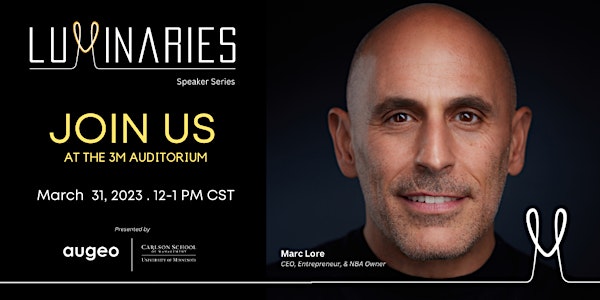 Luminaries Speaker Series – Marc Lore
Serial entrepreneur and new MN Timberwolves owner Marc Lore shares his approach to entrepreneurship
When and where
Location
Carlson School of Management 321 19th Avenue South 3M Auditorium Minneapolis, MN 55455
About this event
Join us in-person at the Carlson School or live online to hear from legendary entrepreneur Marc Lore.
Marc will sit down with Augeo Founder David Kristal and Holmes Center Managing Director John Stavig to share his approach to entrepreneurship and speak on a how and why disruptive thinking is an essential element of business success, sharing examples from past and current entrepreneurial efforts.
Marc Lore – Serial Entrepreneur / Moonshot Seeker / Mission Driven Dad
Marc Lore is Founder, Chairman, and CEO of Wonder Group, a company that's reinventing the at-home dining experience. Wonder is led by a team of proven entrepreneurs, some of the world's greatest chefs and culinary experts, talented innovators from every area of the business, and backed by top-tier venture capitalists. Lore is also the newest NBA owner having purchased the Minnesota Timberwolves and Minnesota Lynx in Spring 2021 with his friend and business partner, Alex Rodriguez.
Lore is the lead and largest investor in Archer, an aerospace company building an all-electric vertical takeoff and landing aircraft focused on improving mobility in cities. He is also Co-Founder and investor of Wizard, a company transforming e-commerce with conversational AI, and Mojo, a sports stock market, where fans can use their knowledge to invest in sports like never before.
Telosa is Lore's legacy project – a city he is building from scratch to test a new model for society, called Equitism. The city will eventually house five million residents and plans to set the global standard for urban living and expand human potential by becoming a blueprint for future generations.
Lore has started and sold four companies, most recently, Jet.com which was acquired by Walmart in 2016 for $3.3 billion. Until 2021, he served as the president and CEO of Walmart U.S. eCommerce. Lore was also the co-founder and CEO of Quidsi, the parent company of e-commerce websites Diapers.com, Soap.com, Wag.com, and more. The company was sold to Amazon in 2011 for $550 million.
About the Luminaries Speaker Series
The Luminaries Speaker Series is jointly developed by Augeo and the Carlson School of Management, showcasing prominent global leaders at the forefront of disruptive innovation in a broad range of industry, nonprofit and public sector fields. Distinguished authors, executives, entrepreneurs, investors and changemakers share their experiences from leading disruptive change – and their lessons for creatively driving innovation in any organization.
Our purpose in creating Luminaries is to showcase creative thinking, explore innovative execution and introduce concepts that can change the world. We hope to inspire all who attend with your "disruptive" thinking and how innovative concepts can be brought to life.
Register here today!