Financial Modeling & Telling Your Business Story with Numbers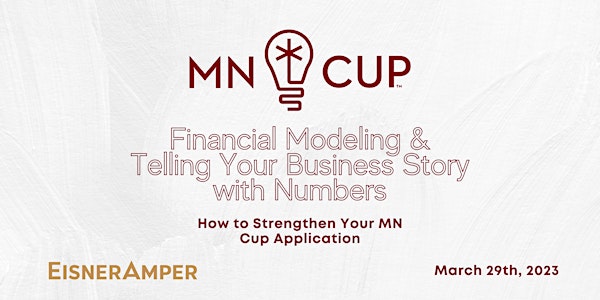 Financial Modeling & Telling Your Business Story with Numbers
How to Strengthen Your MN Cup Application (with EisnerAmper)!
About this event
Understanding cash flow and financial modeling fundamentals is critical for any startup or early-stage business to succeed. In this webinar, EisnerAmper CPAs and startup advisors show you how to get started, avoid common mistakes, and make realistic assumptions to tell a compelling financial story.
In addition, the EisnerAmper team will be available for Q&A and provide attendees with financial modeling Excel templates you can use in your application and in practice to strengthen your business story.
This session is presented by MN Cup's sponsor EisnerAmper LLP. We are grateful for their financial support, and the expertise of Kevin Besikof, Amy Jongerius, and Chris Van Schooneveld who will be presenting during this session.
Register Here Today!