Martin County Fair
MARTIN COUNTY FAIR
Date: 

Aug 14 – Aug 20, 2023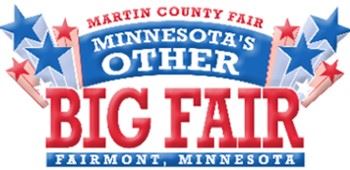 Welcome to the Martin County Fair in Fairmont, MN!
Minnesota's Other Big Fair
The Martin County Fair is a wonderful place for the whole family to enjoy all of the entertainment, events and activities that your family has grown to love over the years. As Minnesota's "Other Big Fair", the Martin County Fair features the largest number of any attractions, events and activities of any other fair in rural Southern Minnesota including:
Quality Musical Entertainment featuring Big Name Talent such as The Johnny Holm Band, Lonestar, and The Whitesidewalls.
A Variety of Games, Rides and other Amusements in our Midway provided by Family Fun Shows.
Local and Regional Livestock Shows.
4-H, FFA and Open Class Exhibits.
Business Booths featuring Specials, Sales and Giveaways.
Auto Racing at Fairmont Raceway adjoining the Fairgrounds.
Great meals and fair food from local organizations and vendors.
Farm Equipment Display and Tractor Driving Contest.
Children's Shows.
Old Time Country Music.
Pork Cook-Off.
And Much More!
Entertainment
Top Entertainment Free with Gate Admission
Tuesday, August 15, 2023
Great Frontier Bull Riding Company
7:00 pm in the Keitzer Arena
DIRT KICKIN' WICKED GOOD BULL RIDING
Alan, Jenn, and Miles have been producing bull riding events for over 20 years. Throughout the Midwest and as far away as Maine; the family prides itself with professional and family fun entertainment. With a focus on "getting butts in the seats" they work hand in hand with committees to ensure the most successful bull riding event.
---
Wednesday, August 16, 2023
Johnny Holm Band
8:30 pm in the park
Making music for over 50 years
Johnny's love of music and entertainment is contagious with five vinyl albums under his belt and a current collection of ten songs that will get you grooving. Playlist includes Minnesota Summer Nights, a popular tune written by former Minnesotan, Jack Sundrud – sure to connect with anyone who's had a summer lake experience.
---
Thursday, August 17, 2023
Lonestar
8:30 pm in the park
Not every musician has the opportunity to revisit and even potentially improve upon their biggest hits. But on the forthcoming TEN to 1 record, the award-winning band Lonestar— Dean Sams (keyboards, acoustic guitar, background vocals), Michael Britt (lead guitarist, background vocals), Keech Rainwater (drums) and Drew Womack (lead vocals, guitar)—are taking a fresh look at all 10 of their chart-topping country songs.
This streak started in 1996 with the band's second single, the rock-edged "No News," which describes a man left bereft (and confused) when his girlfriend suddenly disappears, and the following year's tender "Come Cryin' to Me" and "Everything's Changed." The band's quadruple-platinum 1999 album Lonely Grill spawned four No. 1 hits (including the beloved global smash "Amazed") and established Lonestar as music's preeminent pop-country band—a status they'd maintain through the 2000s and beyond, thanks to songs full of energy and creative lyrics ("What About Now") and ("Mr. Mom"), along with heartfelt messages and soaring melodies ("I'm Already There").
With these re-recordings, the band members were mindful of striking a balance between preserving the sonic elements fans were familiar with—and not repeating them. "It was a high wire act trying to figure out how to change it a little bit and not throw people off too much," Britt says. "I've seen bands that when they do the big hits that I know, and they change it up too much, I feel disappointed. I think people want to sing along—the vocal melody is what people really are latching onto the majority of time.
"That's what was in everybody's minds when we were trying to come up with different arrangements, was trying to keep the vocal melody true," he continues. "Don't change it so much that people go, 'That's not even the same song.'"
As a result, many of Lonestar's re-recordings have merely cosmetic updates and changes. "Mr. Mom" is "a little bit more country-sounding," Britt says, while Sams created some loops for "Smile" to "make it more modern-feeling, and have a little more motion," he says. "It's a little bigger-sounding than what the original record is. We kept most of the songs pretty close to the originals, but with just more updated, modern sounds."
The changes to "Amazed," meanwhile, reflect the power ballad's status as an exclamation mark during concerts. "Since it's usually the biggest part or finale of the show, we've made it a little bit more bombastic," Britt says. "We didn't want to change it so much as just to make it more epic."
TEN to 1 reflects the ways Lonestar's hits have evolved over the years during the band's rousing, high-energy concerts. For example, Britt improvised a guitar solo in the studio for the new version of "Tell Her," just as he's done live in the last few years.
"We've all played these songs live so much that we've morphed them over the years and play them a little bit differently," Sams says. "In re-recording them, it was taking all the different things that we have done and harnessing it into the best direction for today. Michael's got a lot better guitar sounds than he had when we made a lot of these hits; Keech has better drums." Sams also produced the TEN to 1 record sessions, and he approached the songs with fresh ears from both a musical and studio perspective. "I had to look at the music this time, like, 'As not only a band member, but as the producer of this record, how can I keep the integrity of what made the songs the hits they were—but also update them so when people listen to them, there's something unique and different about them that catches  heir ear for today's time?'"
Perhaps the biggest example of this contemporary updating is "Come Cryin' to Me," which the band members agree is the biggest sonic departure. A particular concert by indie-folk act The Lumineers inspired a completely new direction for the song; Lonestar's updated version has gang vocals, four-on-the-floor beats, and percussion that adds a galloping vibe.
Womack, who joined the group in early 2021, also put his own soulful spin on the songs, and brought his deep experience recording session and lead vocals to the studio process. "I sat there and listened to each song about 20 times, and the phrasing and the feel of the new tracks, and tried to absorb it to where I can sing it in one take," he says. "And then I went in and sang four or five passes, and then go back and listen to it and choose the best track."
The vocalist is also no stranger to chart success. He co-wrote Kenny Chesney's first No. 1 hit, "She's Got It All," while his former band, Sons of the Desert, also had multiple country hits in the '90s and collaborated with Lee Ann Womack on her crossover hit "I Hope You Dance." Drew Womack also has deep personal and  professional ties to his new band; Sons of the Desert crossed paths with Lonestar many times, even opening shows for them early on.
"We actually covered a couple of the songs that I'm re-recording," Womack says. "It's surreal re-recording for a greatest hits record songs that I covered back when I was 23, 24. But it's been great. We have very similar tastes in music and similar temperaments. And I've always been a band guy from day one—so this is just like coming home, like flopping right back into a band. It feels right to me."
The rest of Lonestar also speak of how easily Womack fit into the lineup. "Everybody has a best friend somewhere—and then all of a sudden, at the job that you love, you get to work with them every day," Rainwater says. "It's a great feeling that one of your good friends is now one of your bandmates. And it shows on stage when we play—it comes through in the music a little bit, in the attitude and the stage presence."
Adds Sams: "His vocals are soulful. What I love about him is that you feel every word that he sings, which is probably the biggest compliment I can give. He has this really unique way of attaching himself to the lyric of the song and making the audience that is listening to him feel what he is feeling. It's a gift."
Lonestar's roots date back to the early '90s, when Sams originally moved to Nashville from his native Texas intending to be a solo artist. However, after a few months, he realized that he was better suited for a band and recruited Britt and Rainwater. Lonestar found success out of the gate with their self-titled 1995 debut, which spawned the hit "Tequila Talkin'" along with "No News." Other honors soon followed: The band has won many of music's top honors, including Academy Of Country Music awards for New Vocal Group in 1996, and Single and Song Of The Year in 2000, along with Humanitarian Of The Year in 2002. They also won Country Music Association's Vocal Group of the Year and International Artist Achievement award in 2001. All told, Lonestar have sold more than 10.5 million records since their formation. Sams and Womack have already started writing new songs together, which has been a hugely positive creative experience. "We jelled very quickly," Sams says. "When something feels comfortable, it really makes the creative process much more enjoyable and fun, and it actually doesn't feel like work. Drew is such a positive person and he fits in with me, Michael and Keech so much. And there's just this newfound energy and life that we haven't had for some time."
And so as Lonestar looks toward a big career milestone—the band is celebrating 30 years in 2022—and the release of TEN to 1, they are full of gratitude for what they've accomplished already, and excited about what the future holds. "People that we used to look up to back in the day—like the Rolling Stones, Boston, and even bands like Alabama—they're older than us," Rainwater says. "We look up to those people as like the senior class. But now we are sort of the senior class that people seem to look up to and ask questions about and ask for our expertise."
Adds Sams: "It's amazing that we're still standing and putting on great shows after all these years. The fans are still coming out to our shows night after night, to see us and hear our music. That's almost 30 years of touring, and I can't tell you how grateful I am—and I've never once taken it for granted."
---
Friday, August 18, 2023
The White Sidewalls
6:00 pm in the Martin County Arena
The Upper Midwest's premier doo-wop, rockabilly and rock and roll band!
The Whitesidewalls song list is drawn from what we consider to be the golden era of rock and roll and doo-wop music, 1954 to 1964. Here is a list of some of the thousands of tunes we've performed over the years that you might hear in our show right now…
Mystery Train- Elvis Presley
Sea Cruise- Frankie Ford
Get a Job- The Silhouettes Oh Boy!- Buddy Holly
Travelin' Man- Ricky Nelson Bye Bye Love- The Everly Brothers
C'mon Everybody- Eddie Cochran You Never Can Tell- Chuck Berry
Runaround Sue- Dion and the Belmonts 409- The Beach Boys
At the Hop- Danny and the Juniors Who Put the Bomp?- Barry Mann
Lonely Teardrops- Jackie Wilson Little Darlin'- The Diamonds
(Just Like) Romeo and Juliet- The Reflections Chantilly Lace- The Big Bopper
Blue Suede Shoes- Carl Perkins Pretty Little Angel Eyes- Curtis Lee
Once in a While- The Chimes The Lion Sleeps Tonight (Wimoweh)- The Tokens
In the Still of the Night- The Five Satins Heartbreak Hotel- Elvis Presley
Maybe Baby- Buddy Holly
Sixteen Candles- The Crests
Livin' in the USA- Chuck Berry Little Deuce Coupe- The Beach Boys
It's Only Make-Believe- Conway Twitty Whole Lotta Shakin'- Jerry Lee Lewis
California Sun- The Rivieras Sweet Little Sixteen- Chuck Berry
Wake Up Little Susie- The Everly Brothers The Wanderer- Dion and the Belmonts
Tequila- The Champs Rave On- Buddy Holly
Let It Rock- Chuck Berry Rock and Roll is Here to Stay- Danny and the Juniors
Somethin' Else- Eddie Cochran Little Sister- Elvis Presley
Unchained Melody- The Righteous Brothers Boppin' the Blues- Carl Perkins
Do You Love Me?- The Contours Treat Me Nice- Elvis Presley
Walk Like a Man- The Four Seasons Roll Over Beethoven- Chuck Berry
Pretty Woman- Roy Orbison Great Balls 'O Fire- Jerry Lee Lewis
True Love Ways- Buddy Holly Little Bitty Pretty One- Bobby Day
New Orleans- Gary "US" Bonds Hello Mary Lou- Ricky Nelson
All Shook Up- Elvis Presley Diana- Paul Anka
Blue Moon- The Marcels
That'll Be the Day- Buddy Holly
Let's Twist Again- Chubby Checker Johnny B. Goode- Chuck Berry
Blueberry Hill- Fats Domino Good Golly Miss Molly- Little Richard
Bye Bye Love- The Everly Brothers One Night With You- Elvis Presley
Route 66- Chuck Berry La Bamba- Richie Valens
Runaway- Del Shannon Goodnight, Sweetheart- The Spaniels
Raining in My Heart- Buddy Holly Your Baby Blue Eyes- Johnny Burnette
The Stroll- The Diamonds
Let It Be Me- The Everly Brothers
Do You Wanna Dance?- The Beach Boys
Promised Land- Chuck Berry
Stand By Me- Ben E. King
Peggy Sue- Buddy Holly
You've Lost That Lovin' Feeling- The Righteous Brothers
Duke of Earl- Gene Chandler
Tonight I Fell in Love- The Tokens
True Fine Mama- Little Richard
I Only Have Eyes For You- The Flamingos
No Money Down- Chuck Berry
Rock Around the Clock/See You Later Alligator/Shake, Rattle and Roll-
Bill Haley and the Comets
Morse Code of Love- The Capris
Palisades Park- Freddie "Boom Boom" Cannon
Well All Right- Buddy Holly
Cathy's Clown- The Everly Brothers
Shout!- The Isley Brothers
The Great Pretender- The Platters
Yackety Yak- The Coasters
I Wonder Why- Dion and the Belmonts
Come Go With Me- The Del Vikings
Maybelline- Chuck Berry
Only the Lonely- Roy Orbison
Charlie Brown- The Coasters
Summertime Blues- Eddie Cochran
Everyday- Buddy Holly
Beyond the Sea- Bobby Darin
Seventeen- Boyd Bennett and His Rockets
Red Hot- Billy Lee Riley
Slippin' and Slidin'- Little Richard
The Little Old Lady From Pasadena- Jan & Dean
Love Potion #9- The Clovers
Big Boss Man- Charlie Rich
Little Deuce Coupe- The Beach Boys
Such a Night- Elvis Presley
Cara Mia- Jay and the Americans
Mona Lisa-Conway Twitty
Bony Maroney- Larry Williams
Woman Love- Gene Vincent and the Blue Caps
Hey Baby- Bruce Channel
Buzz Buzz Buzz- The Hollywood Flames
…And Many More!
---
Saturday, August 19, 2023