Spring Grove Real Estate Group LLC
Return to CEDA Team
Courtney Bergey Swanson
Courtney grew up on a farm in rural Lanesboro, MN, and returned to Southeast Minnesota after studying Art and Communication Studies at Luther College. Before joining CEDA in 2016, she served as Director of Advancement for Lanesboro Arts. During her tenure, Courtney raised over $1 million in regional and national grant funding to implement several community and economic development projects, including public space improvements, historic renovation, cultural tourism efforts, and strategic planning for community growth. Courtney's work is fueled by the belief that rural areas have the potential to advance their narrative, embrace innovation, and make creative pathways towards a sustainable future.
Courtney is a fiber and ceramic artist and enjoys sharing her talents through teaching. She serves on the Board of Directors for Listos Spanish-English Dual Immersion Preschool in Rochester and is a member of Next Generation, a collaboration between the Rural Policy Research Institute and Art of the Rural to develop new ideas for helping rural areas attract and retain the next generation of citizens and leaders.
Return to CEDA Team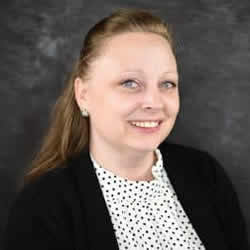 Rebecca Charles
Rebecca joined the CEDA team in May of 2017. Rebecca has a Master's Degree in International Relations from the University of Wales, Swansea, and Bachelor of Science in Political Science from South Dakota State University. She has spent the past 15 years working on/leading political campaigns for both local and national candidates, as well as issue based campaigns.
Rebecca's interest in rural economic development stems from her experiences working with rural communities during her political career, where she heard about the needs and difficulties facing rural communities across the nation. She has a strong desire to help to make positive changes for rural America.